Editors Note: This article was originally published on August 30th, 2018, and has been completely revamped and updated for accuracy and comprehensiveness.
Financial fraud crimes are one of those things you hear about all the time but don't think it can happen to you. It's a severe issue, though.
According to the Federal Trade Commission, they received 1.4 million fraud reports in 2018, and 25% of the people said they lost money.
In 2018, scammers were able to get $423 million by wire transfer from fraud victims.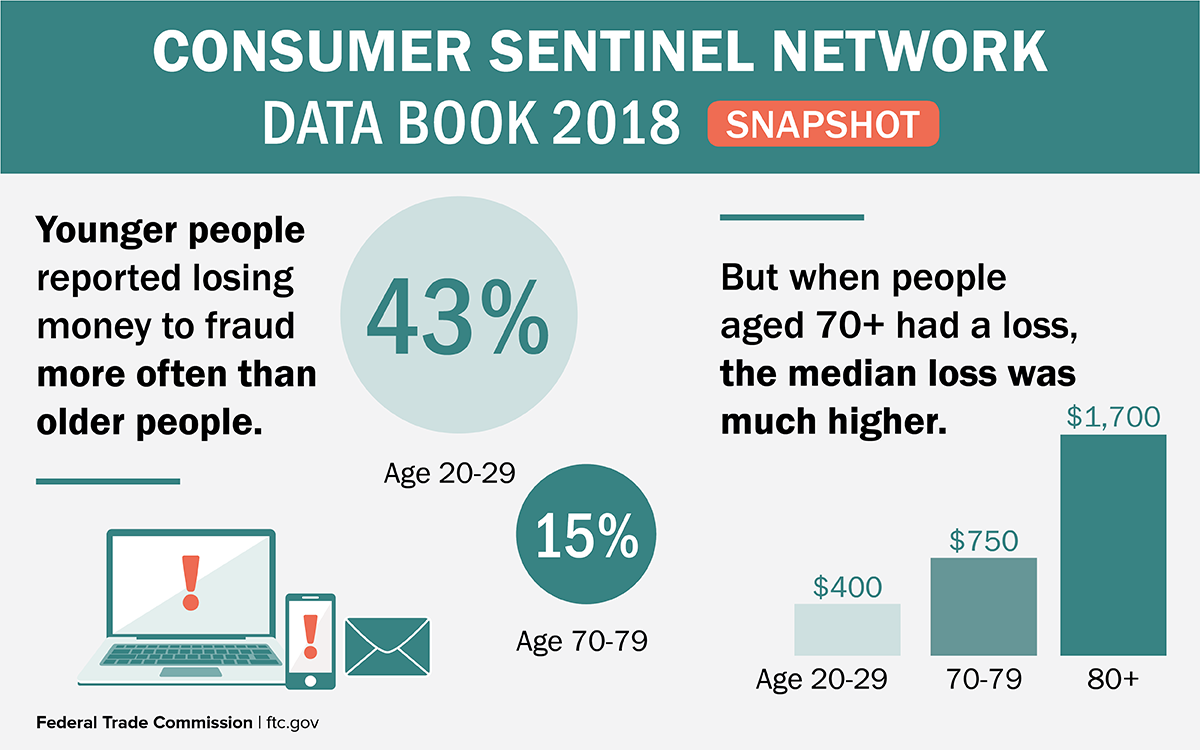 In the infographic above from the FTC, younger people reported losing money to fraud more often than older people. Out of all reports, 43% were between the ages of 20-29, while 15% are 70-79.
Being a victim of financial fraud can cause trouble in many areas of your life. It can mess up your credit, make your default on reoccurring payments and end up with late fees, and even keep you from accessing your next paycheck.
As such, you should be prepared to deal with fraud should it ever happen to you.
Let's explore what is financial fraud
Fraud occurs by using deceptive, misleading, or illegal practices, someone takes money, capital, or harms your financial health. There are many ways to commit fraud, such as stealing your identity or investment fraud.
No matter the type of fraud, it is critical to move quickly if you think you are a victim of fraud.
What to do if you think you're a victim of financial fraud.
1. Research the Kind of Fraud You're Dealing With
The thing about financial fraud is that it doesn't always happen in the same way. One person may be a victim of credit card fraud while another could be losing funds due to internet, employee fraud, or investment fraud scheme.
It pays to understand what you're dealing with as best as you can. Take some time to research the different kinds of fraud and find what describes the situation you're in. This allows the search for the person at fault to narrow down and get you to a solution faster.
Examples of fraud
In 2018, the top 3 frauds reported were:
Imposter scams
Debt collection
Identity theft
But here is a list of some of the most infamous fraud perpetrated:
Mail Fraud
Driver's License Fraud
Healthcare Fraud
Debit and Credit Card Fraud
Bank Account Takeover Fraud
Stolen Tax Refund Fraud
Voter Fraud
Internet Fraud
Elder Fraud
Identity Theft
Fake Charities
Mortgage Fraud
Fake lotteries
Debt collection fraud
Telemarketing fraud
Securities fraud
Ponzi schemes
Stolen Social Security Number
Stolen financial information
The first step you can take in protecting yourself from fraud is to become familiar with all the different types that exist.
2. Contact Local Authorities
As soon as you notice your credit card is missing or your account has been compromised, call your local police. Let them know you've been a victim of fraud, especially if you think you were specifically targeted.
Tell the authorities everything you can about the situation. You may only have a few details to share, like where you left your card and the kind of charges showing up. Or, you might guess who is trying to take your money.
Whether you're onto something or you're clueless, all the information you can give does help. It points the authorities in the right direction to catch whoever is frauding you.
3. Inform a Consumer Protection Office
Once you know the kind of fraud you've been affected by, you can report the crimes to federal or state law enforcement with more details. Don't just continue the conversation with your local officers, though. It's also a good idea to contact your state's consumer protection office.
Keep in mind that an agency can't act on your behalf alone.
However, when officials start getting similar complaints about the same situation or claiming fraud against a particular company/organization, the fight against the fraudulent party becomes stronger.
By joining a group, authorities can act on behalf of all victims instead of resolving one complaint at a time.
Fraud Reporting Resources
Below is a list of websites you can visit to gather additional information about reporting fraud.
Financial Fraud Enforcement Task Force – Report Financial Fraud – Stopfraud.gov
Department of Justice – Report Fraud – Justice.gov
Confidential referrals for crime victims – Victimconnect.org
Consumer Complaint to FTC – Federal Trade Commission – FTC.gov
Contact the FBI – FBI.gov
Make Your Case for Financial Fraud
There's one more thing to keep in mind when dealing with financial fraud: the sooner you act, the better. There's no sense in wasting precious time if you want to get every penny of your hard-earned money back.
This is especially true if you're dealing with corporate fraud.
Conclusion
Being a victim of fraud is a painful experience that no one should go through. If you feel you are a victim of fraud, stay calm, and take action.
Time is of the essence.
Follow the guide above so you can hold the people that committed the fraud accountable.
If you need help uncovering facts related to potential fraud, click here to learn more aboutcorporate fraud investigation.